Want to stay up to date on what is currently happening at the Renewal Programme and find out what's happening?
Here you can find our current events, services, and projects.
Make sure to check regularly so you don't miss out!
---
Manor Park Oasis
The Renewal Programme has recently taken over the vacant site next door to our headquarters for temporary community use! 🍀
We have been going wild with ideas at the Renewal Programme, but we want to hear from you first. What would you like to see? How can we use this space to benefit the local community? Are you an organisation or business that would like to collaborate with us?
Newham Council is currently running The Big Vote which allows for our Newham community to pick where a £20,000 budget is allocated.
Anyone who lives, learns or works in the Community Neighborhood of Manor Park had the opportunity to vote for their 10 favourite projects, and have their say in what they would like to see in the community!
Did you get a chance to vote?
We will keep you updated on the results!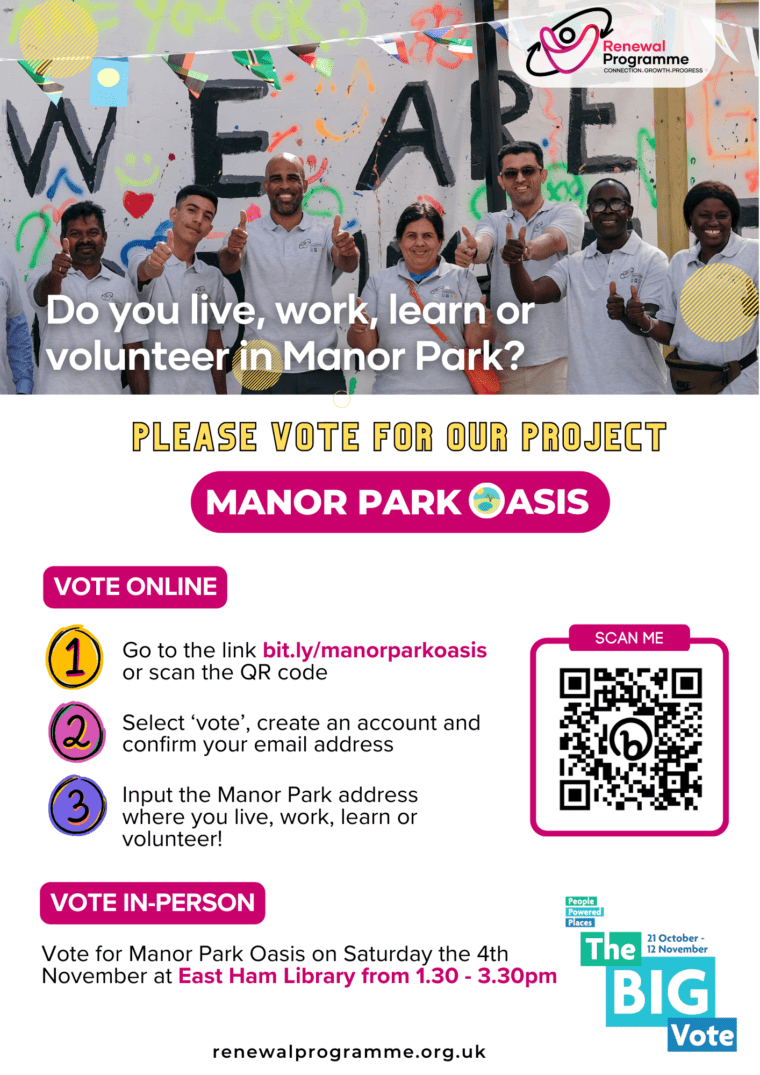 Community Hot Meals
As part of our Stay Warm in Newham Project we are serving hot meals and providing a warm space, every Tuesday, Wednesday and Friday!
Once a month our Warm Welcome Host, Luis, puts on his Chef hat and teaches attendees to make simple, delicious dishes with our food bank ingredients
Community Charged Energy Champion
As an extension of our Stay Warm in Newham project, we're reaching out into our community to further help Newham residents take control of their energy bills.
---